The Light Bridge
A series of works created in the period between 01.12.2002 and 30.11.2003.
TRUST
YOU GOLDEN TREASURE
SEARCH AND FIND
THE KINGDOM
IN THE HEART
OF ALL LIVING CREATURES

Eschara 20041201
The 365 paintings in acrylic on canvas (30 x 30 cm) are arranged in horizontal rows of five, reflective and flowing (meandering) in bright colour tones that are repeated time and time again.
The focus of this work is on the structure selected once, in its universal expression, which remains steady and rhythmic over the entire period, taking into account the day's quality and the peaceful oasis of the white-gold structure without temporal overlaps or breaks, carried out with discipline.
Thus a work of 1.50 x 21.90 m in size was created in which the beholder can enter into their freedom.
THE LIGHT BRIDGE
Eschara 27.04.2006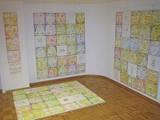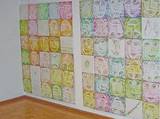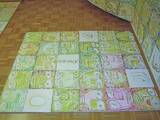 A selection of paintings from the Light Bridge installation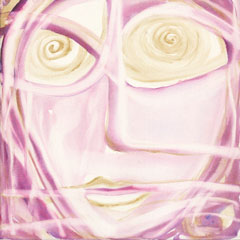 STRIVING
FOR HAPPINESS
BEYOND THE GRAVE
FULFILLED GOLDEN LIFE
SERVICE TO OTHERS

Eschara 20050225

HAPPINESS
IS THE WAY
WITH THE ANGELS
PROTECTED BENEATH THE WINGS
OF LOVE

Eschara 20050605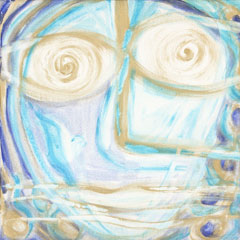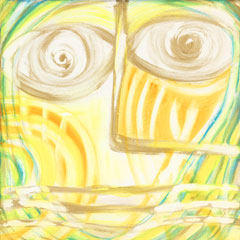 LIGHT
YOU HAPPINESS
OF THE WORLD
TONES OF COLOUR
FULL OF LOVE

Eschara 20050802